Takutea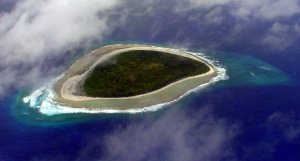 Takutea Island - 20km northwest of Atiu  
Just 20 kilometres Northwest of Atiu is the Island of Takutea. This island belongs to all the landowners of Atiu. It is very seldom visited. This lack of visitors is because of distance, unpredictability of the weather and the difficulty on gaining foothold on the island. The island is surrounded by unbroken reef. Access is only possible in calm weather and on the lee side. In years past the Atiuans made many voyages to Takutea to harvest coconut crabs, fish, crayfish, paua, turtles and birds but in 1963 this changed. In that year a large number of Cook Islanders were lost at sea on a voyage between the islands of Manihiki and Rakahanga. New laws were imposed forbidding voyaging between islands in traditional craft. Takutea became isolated and unvisited. There was little resistence to the island being declared a bird sanctuary about 35 years ago and when world numbers of turtles plunged, a turtle sanctuary.
In isolation Takutea blossomed. It is now in pristine condition and appears totally untouched by man. For more photos of Takutea see the gallery page.
Birds of Takutea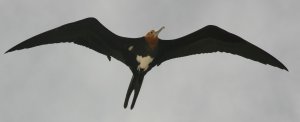 The Greater Frigate Bird
Red Footed Booby
There are numerous nesting birds on Takutea. Those known to nest include Red Tailed Tropic Bird, Red-footed Booby, Brown-footed Booby, Great Frigate Bird, Brown Noddy, Black Noddy, White Tern, Bristle Thighed Curlew and the Reef Heron. There are probably more.
More birds certainly visit and the sky is always full of wheeling sea-birds
Explore Takutea
It is no longer possible to easily land and explore Takutea. Intending travelers and even landowners require permissions from Takutea Trustees, Atiu Trust, Island Council, National Evironment Services and there is the need to meet some more conditions. Google "Seacology and Takutea".
Dive Takutea
Takutea has been described by experienced divers as amazing. The reef is untouched, unbleached, unpolluted, contains features seen nowhere else and free of dead coral. Dive and you will wonder what everyone is talking about when they talk of "the imminent collapse of the worlds coral reefs". The pictures below are taken just after the destruction of cyclone Meena and Nancy. Start with a pristine reef and propound your own theory why the rest of the world's reefs are degrading. Dive Takutea.
Takutea reef 3 Days after cyclone Nancy
Takutea reef 3 Days after cyclone Nancy
Surf Takutea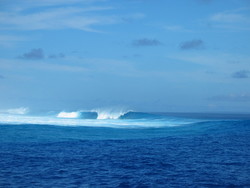 Takatea has two breaks, one worth surfing on the west corner, the other, reputedly the best in the Cook Islands over the
Southeast shelving reef. Projecting 200 metres out from the southeast corner of Takutea is an undersea shelf of coral, about 4 metres deep. This southeast corner has never been surfed. The best waves, seen and the conditions monitored by an Air Rarotonga pilot and keen surfer, occur when storm waves come from the east-southeast and a northwest wind blows. (A northwest wind normally heralds a severe change in the weather). With waves exactly in this direction 400 metre rides are possible. Being there and catching these waves has been a unfufilled challenge. At least three expeditions have made the attempt. All failed and the challenge to surf Takutea remains. 
Takutea surf