Ancient Trails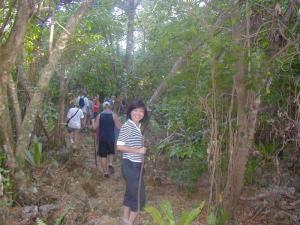 Captain Cooks trail  
In ancient times Atiu was crisscrossed with trails. There were no roads. Some trails were just paths and succumbed to jungle growth when roads and mechanised transport arrived. Some of the ancient paved paths also disappeared because these paths were important thoroughfares and were made into vehicular roads. A few however still remain and are worth finding. They all pass through makatea, the jungle and end at a beach or landing. The jungle is pristine. One look at it and you will understand why it would be almost impossible for man to knock it down. Makatea is weird stuff. It looks primeval, intimidating and straight out of Jurassic Park.
Captain Cooks Trail.
This partly paved path can be easily found although the start at Oravaru (Cooks Landing place) or at Orongo Marae are often overgrown. This is the trail that Captain Cook's landing party took to the main settlement of the chief Ngarmaru. The trail features a land bridge over a deep 4 metre wide cleft in the Makatea. Most people miss this and walk over it unperturbed. Watch for a dip in the path.
Vai Momoiri Trail.
This trail from Tengatangi Village to Tarapaku Landing was blasted into a road in 1992. Parts of the old trail remain. The water cave of Vai Mamoiri can still be found off road and features orange water. Ask a local to help you find it.
Oneroa Beach Trail.
This trail is hard to find. The trail passes Vai Akaruru an underground clear water cave. This cave is part of a cave tour provided by Paul Kura Ph 33267.
Tumai and Tongaroro Beach Trails.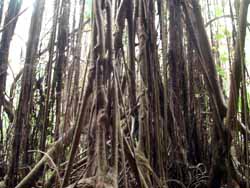 The aerial roots of the banyan tree arch overhead These trails can be easily found from the beach end. They end up at Ngatiarua swamp. Features are the rugged makatea and large banyan trees.
WARNING: There are other trails but we hesitate to mention them. The makatea is a dangerous place to get lost in and this is very easy to do. Injuries from missing your step or falling into deep cavities can be very serious. Not many locals know the ancient trails and even they get lost. On overcast days especially, you very quickly loose direction when you leave the trail. If you do get lost, listen carefully and if you are lucky, you can hear the sound of the waves, head for them.