Coffee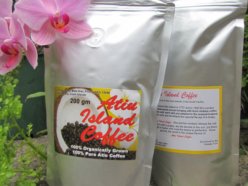 The 100% pure Atiu Island Coffee 
Atiu coffee is 100% Arabica. The early missionaries were the first to bring coffee to the islands. It developed a special flavour as it survived and developed in the makatea with its calcium and phosphorus rich lowland soil until the 1950s, when a small coffee industry was started. In the late 1970's Atiu coffee was exported to Rarotonga. It was roasted and packaged by Triad Enterprises under the label Royal Atiu Coffee. The label was very successful. In 1984, a German couple convinced the local government that they should roast and market the coffee from Atiu. This they did successfully for 16 years, although some would argue that this monopoly on coffee stifled prices and as a consequence the industry did not expand. In 1998 the monopoly of the German couple was broken when a local woman started processing her own beans by hand and roasting them over an open fire in the traditional way and produced 'Atiu Island Coffee'.
All coffee on Atiu is grown organically. The Arabica beans are fermented, sundried, roasted and packaged on the island. There were two brands similarly named as 'Atiu Coffee' and 'Atiu Island Coffee'.
'Atiu Coffee' was hand picked and sorted, blended with Guatemalan and other coffees, machine roasted and packaged. It is exported as a gourmet coffee to New Zealand, USA and Europe. It is no longer produced
'Atiu Island Coffee' is 100% pure Atiu coffee. This pure brand is hand picked, processed and roasted over an open fire in Coconut cream. The wood smoke, varying dark and mild roast beans and the coconut cream give this brand a distinctive taste. Mata Arai is the woman behind this traditional business and works out of Ezra store in Mapumai village. She also offers a tour, showing you how to process coffee by hand in the traditional Atiu way and you end up drinking cups of fresh fire roasted coffee, pikelets and coconut cream. Ph 33 088
In 2015 the Atiu Coffee factory closed and Mata Arai took over their production under her own brand "Atiu Island Coffee". Her production has expanded. Her coffee is still 100% Atiu coffee but she no longer roasts over an open fire using instead a gas commercial roaster. The legacy of Atiu Coffee lives on.