Diving
Rainer's south coast dive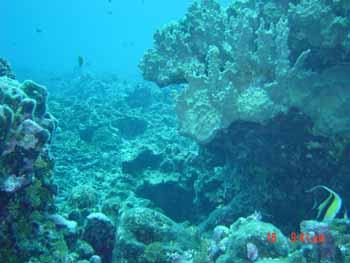 Atiu is seldom dived. Until recently the only diving having been done was by NZ Army divers that built the Atiu harbour in 1974. Other than a verbal report that the south coast was dramatic no other dives have been done until 2002 when Atiu Villas sponsored two dive expeditions.
The first was by Grant Priest and Terry Meyer of Rarotonga. They covered the coast from Tarapaku to Konokonoko to Vai Piake. It was in the winter of 2002 and a water temperature of 24 degrees Celsius or 76 degrees Fahrenheit. The most spectacular dive spot was at Vai Piake with large fish life, large coral bombs and about 50% live coral. Just outside the harbour was also a notable dive spot.
The second expedition was by professional Navy diver Rainer Pabst from Houston. He dived from Vai Piake to Te Tau and from there, half way to Matai Landing. A professional diver of many sites around the world said the diving was good but not as good as some of the sites he had seen elsewhere in the world. He is a hard but honest critic. The diving exploration of Atiu is not finished and that world class spectacular spot may yet be found. Still to be dived is quarter of the island from Matai landing to Tarapaku landing. This coast includes the lagoon features of the sinkhole and the three grottos and other pieces of dramatic coastline. By the way, Rainer says he will be back, and this time with a compressor.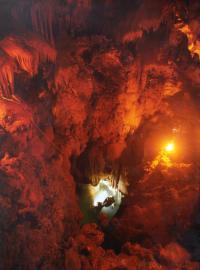 David Goldie at the surface in Ana Nurau(view from above). The dry cave is illuminated by candle light and the diver is silhouetted by an underwater flash.
At present, there is no compressor on Atiu. Air bottles have to be airfreighted from Rarotonga. Note that these bottles need to have safety caps or be packaged to protect the valves. Local fishermen could supply good dive support boat but they do not have any diving gear.
In 1997, two Australian cave divers David Goldie and Paul Tobin visited Atiu and several of the water caves in the Makatea were explored. Nurau cave had the most extensive cave system and a movie of their cave exploration called "Cave Diving" is available on this website. David and Paul spent three weeks on Atiu and brought their own compressor. They reached a depth of 46 metres and found stalactites and stalagmites in a cave down there. This indicates that during an ice age the sea level dropped at least 46 metres around Atiu.