Fish and Fishing
Fishing on Atiu is not typical of tropical islands. Atiu island is old as far as tropical islands go. The surrounding reef has developed almost to its limit and the ocean deepens rapidly from the reefs edge. It is thus possible to catch deep sea fish close to shore. Atiuan fishermen stand on the reef edge casting for fish in the ocean.
Atiu's lagoons are about 40 metres wide and shallow. There are occassional deep spots like the coral garden and the sink hole on the south coast. Fish in the lagoon are usually caught by chasing them into gill nets.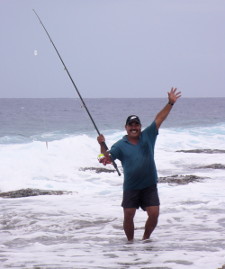 Lagoon fishing trips can be arranged with Andrew Matapakia (Pi Viti). Contact him at the Atiu Villas bar (He's the barman) or phone 33825 mobile 50162.
Whales are seen close to shore in August, September and October. They often give spectacular displays that are within 150 metres of the beach. The water at this distance can be very deep especially on the south coast where the reef drops at 10 degrees to the vertical. The south coast is thus a deepsea playground for whales and they appear to like playing close to shore.
Deepsea Fishing is available around Atiu, both trolling and deep lining. The deep lining technique involves preparation of the deep fishing zone with plenty of masticated coconut to attract the Tuna and Wahoo.
Fishing around Atiu is good but pales in comparison to fishing around Takutea Island. Takutea is 18km from Atiu. It is uninhabited and is a bird sanctury. Because it is so far from Atiu it is seldom visited or fished. A deepsea fishing trip to Takutea almost always nets more than 8 fish greater than 10kgm.  To arrange a fishing trip contact Andrew phone 33825 mobile 50162.