Tours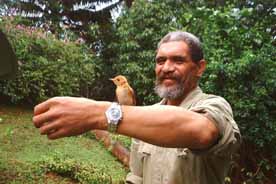 George Mateariki our Birdman George.  
George Mateariki is our birdman. He is employed by the Takitumu Conservation Area to look after the 30 Rarotongan Flycatchers (Kakerori) transferred to Atiu in the years 2001 to 2003, as part of the recovery programme for an endangered bird that was reduced to 29 birds on Rarotonga in 1992.
The ship rat attacks the bird on Rarotonga. There are no ship rats on Atiu and George is employed part time to trap rats at the island entry points and monitor the Kakerori. Also because Atiu has no ship rat 27 of the endangered Rimatara lorikeet were reintroduced to Atiu in 2007.
They too are breeding successfully. Birdman George offers to show you these birds and all the other birds of Atiu in a tour that lasts 3 hours at $50 NZ. George also does a splendid tour of the island incorporating ancient trails, the different types of plants and their uses, the beaches, a picnic and the birds. This tour lasts between 4 to 5 hours and includes a picnic from the land and as a special on Sunday his "Reastaurant on the Beach" with local food from his family's earth oven. Price $50. Ph 33047.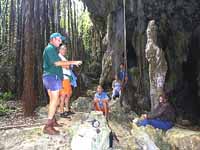 Marshall Humphreys on tour  
Atiu Tours.
James, Metua and Marshall Humphreys offer three splendid tours. The Kopeka cave tour is a must for the agile. The Kopeka is a unique bird to Atiu. It echo locates its way around in the dark of Takitaki cave and uses it's sharp eyesight outside to catch insects on the wing. It never lands outside and only rests upside down hanging from the ceiling of the cave. The Kopeka cave tour also features a candle light swim in an underground pool. Tremendous value at $35 NZ. If the tour is in the afternoon an enjoyable add-on is a visit to a tumunu. Atiu Tours second tour is an island tour of Atiu showing you the interesting sights and giving you information on what is happening on Atiu now and what happened in the past. A light meal is provided. The tour takes 3½ hours and is priced at $50. The third tour is a visit to Rima Rau burial cave at $30 per person. Ph 33041.
Atiu Island Coffee Tour. Atiuan Mata Arai offers to take you through all the steps in the production of Atiu Island Coffee. She will show you how to grow, pick, hand process and roast over an open fire just as her grandmother did in the traditional Atiu way. The tour ends with fresh fire roasted Atiu Island Coffee, coconut cream and pikelets. $30 per person, Ph 33088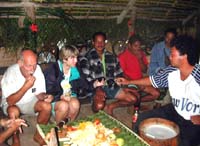 Te Poonui Tumunu in session
Tumunu. It is possible to visit a tumunu yourself, but it is better to go with a host. Your accommodator can arrange this or if not try Kau Henry Ph 33218 he charges $20 which includes a donation to the tumunu or try Mareta Atetu phone 33262 mob 71807 or Jackie ph 33218 mob 77341.
Water Caves. Contact Paul Kura to visit two excellent water caves, Nurau and Vai Akaruru. $30 Ph 33267.
Deepsea fishing. Contact Andrew Matapakia phone 33825
Lagoon Fishing. Andrew Matapakia (Pi Viti) will take you fishing fishing in the lagoon and on the reef and depending on the weather you will catching whatever fish the locals are catching that day. $30 for 3 hours. Phone 33825
Pig Hunting is possible on Atiu if a hunt is on. Run with the hunt, using dogs and knives. Bring home your own bacon. Saturday mornings and weekdays after 3pm. Contact Nookura Nookura of Areora.